My scanner is up and running (YES!) *clenches fists and punched air in victory* and finally I
can post a series of drawings I've done recently.
This one is the chars of our two beloved admins, lenalee and Marlow.
Lenalee's Shitzuski Joker (I know how everyone loves him) and Marlow's Jack O Spleen(which he
has never used!!!)
I tried to portray the Trickster's charm and eccentricity best as I could and I must say-not bad!
But it was hard to imitate the creepiness of Jack O Spleen's. Ah, O well, win some lose some.
both images are drawn from my own mind so if I perceived anything incorrectly, pls tell me. feedback
is also welcome. Little shading-becos I hate to shade and poison myself with lead, though i do so on a
daily basis. And bcos I'm lazy,I'll admit that. Both pics are done with mechanical pencils, 0.5 and 0.7 lead,
more on the 0.7, 2B. Little erasing from original pic. (I have a bad habit to draw too hard, my lines
are too dark and impossible to erase fully. remind me to kick this habit.)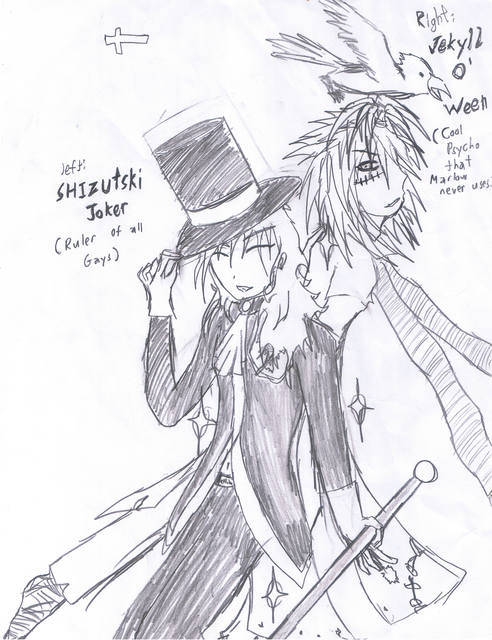 P.S. Do not, i repeat, so not mention the words 'talented' or 'gifted' to my face.*Death Stare*
I have about as much talent as a hairless baboon, but spent most of my time working on
doodling since 4. And yet for all my 13 years of experience the talented ones catch up with
but only one year of practice... which just makes me homicidal.